Standard Dry Cleaning Conveyor Specifications
Dry Cleaning - Storage Conveyors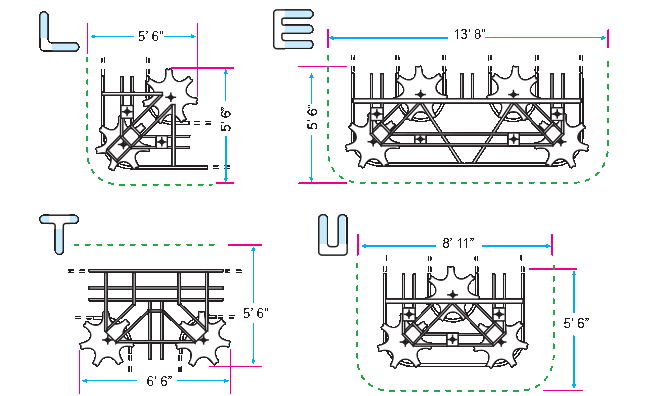 White Conveyors are available in a wide variety of special shapes. You can "design your own conveyor" to fit most any length or shape by using our standard "modular" sections. Here are some typical shapes.
General Specifications:
Electrical: 115 Volt; 1 Phase, 60 Cycle (optional voltages avaliable).
Controls: Bi-directional hand or foot switch as requested.
Wiring: Pre-wired for primary supply connection.
Speed: 75 ft./min.
Colors: Black is standard (other colors quoted by request).
Conveyor can be configured to fit your "envelope" (length, shape and clear ceiling height of your facility).
Conveyor can be floor and/or ceiling supported.
Rigid frame with two 2" x 1-1/2" x 3/16" structural angle backbone.
All horizontal bends reinforced with 1/4" x 2" flat bar cap.
Conveyor track is 1-5/16" O.D. x 13 Gauge welded high grade zinc plated steel tubing to prevent corrosion.
Cross members are 3" x 7 gauge formed steel channels.
Drive Configurations:
180 degree end drive or In-line "TWIN" caterpillar drive(s) for heavy duty loads located for optimized chain pull distribution.
Integral flame cut steel sprocket with 1-1/4" minimum shaft diameter. All configurations use inverter controlled direct drives.
Direct Drive:
The conveyor drive is fractional horsepower up to 2 HP, maintenance free, low noise.
Totally Enclosed Fan Cooled motor.
Permanently lubricated gear reducer.
Single Phase (115/230) voltage or three phase (208-460) voltage (optional voltages available).
Conveyor Chain:
Single or two tier chain configurations are available.
Conveyor chain frames are available in 3, 5 or 10 slot configurations.
Aluminum frames available in 10 slots.
Steel frames available in 3, 5 or 10 slots.
All conveyor frames are 12" long and have hardened hinge pins with dry lube, low friction coating to minimize wear.
Conveyor frames equipped with die cast aluminum yokes with 1-3/8" diameter nylon treaded load bearing wheels with steel bearing cores.
Stabilizing rollers mounted on the underside of the yoke provide positive tracking of chain on vertical bends.
Electrical:
The electrical circuit has been approved and listed by ETL(UL).
Inverter drive control provides following features:
Soft Start/Stop
Variable speed
Adaptable jam protection
Low energy consumption
OPERATING CONTROLS (Low Voltage):
Bi-directional handswitch: a three position switch for clockwise and counter-clockwise movement, with Center position Stop.
Optional bi-directional foot switch to activate conveyor in either clockwise or counter-clockwise direction when foot pressure is exerted and maintained by operator.
Optional Equipment:
Automatic Control:

White Conveyors microprocessor keyboard control automatically sends a signal that starts and stops the conveyor at the designated position when the required slot number is entered. The conveyor will rotate either clockwise or counter-clockwise, traveling via the shortest route to position. When two or more operator stations are required, lock-out feature is included.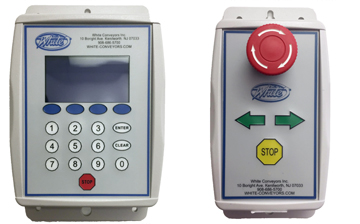 601 hand switch controller used in conjunction with 600 series KBD or stand alone. 600 series controllers have lock-out capabilities for multiple control requirements for single conveyor.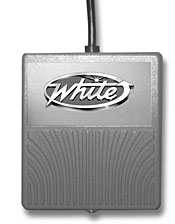 Foot switch - with 25 ft. cord.