Comp-U-Sort Garment Sorting Technology
White Conveyors Comp-U-Sort™ is the leading edge of garment sorting technology.

Automated Comp-U-Sort Systems were designed to improve productivity by providing a more efficient means of sorting garments on hangers. Common applications include: high volume industrial laundries, institutional laundries, dry cleaners and retail organizations requiring automated sorting.

Maximize Labor Efficiency
Uses Standard Hangers
Comp-U-Sort Flexibility
Automation Benefits
Compatibility With Existing Facilities and Management Systems
System Planning and Site Engineering
Fast Installation
Minimal Maintenance
Superb Customer Service
American made with prompt support

Dowload literature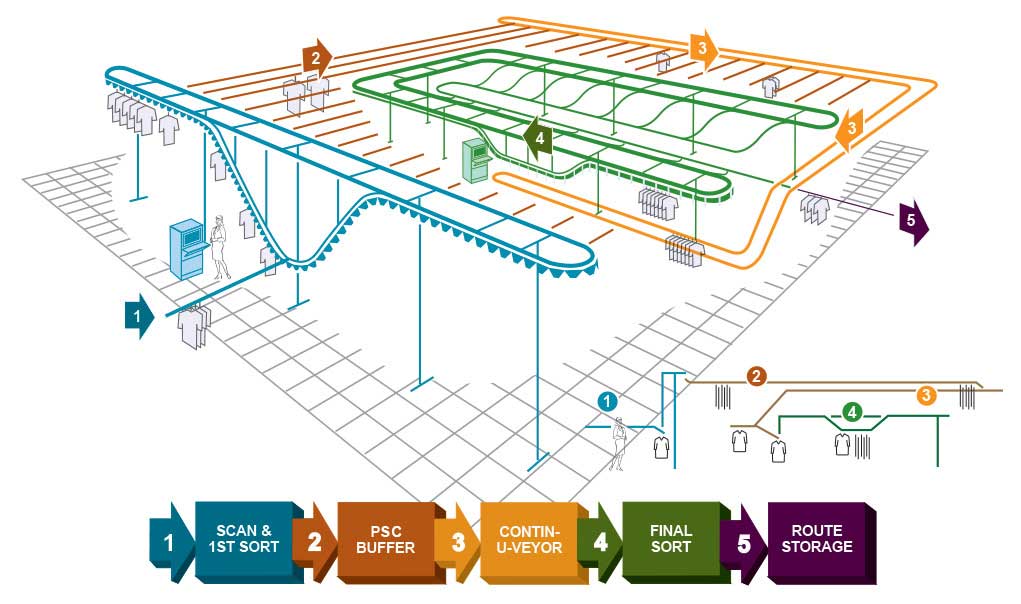 Scan & 1st Sort
From the finishing tunnel, each garment is fed into the first sort loading station where it is automatically scanned and loaded onto a CUS-OAS for initial (batch or route) sorting. The system's scanner can be programmed to read bar codes, or radio frequency identifiers. Once scanned, each garment's identity and location are continuously monitored from start to finish. The system can handle the output of multiple finishing tunnels, and is capable or sorting over 7,000 pieces per hour without an operator.
PSC Buffer
Garments for each batch are automatically discharged onto an overhead PSC storage system or gravity feed rails. The PSC is superior to gravity rails because it ensures that garments aren't crushed and open work space is available underneath. The PSCs can be installed in rooms with as little as a 14' ceiling and still provide open floor space.
Final Sort
On demand, the PSCs off-load their sorted garments onto a Contin-U-Veyor which takes them to a Comp-U-Sort. This final sort combines route, account, man and garment type in one non-linear process. The patented Comp-U-Sort technology, which includes a powerful and flexible database system, completes the final sort quickly with all garments in perfect order, ready for tie out and delivery to your customers.
Route Storage
If route storage is necessary, the garments may be moved on a Contin-U-Veyor to a route holding area, again by using overhead PSCs. Clear floor space is available for other work activities. A Contin-U-Veyor would then deliver the garments directly to your loading dock.